A group of five Drylander children resembling the Combo Rangers, namely Lisa (yellow), Kiko (green), Fox (red), Ken (blue) and Tati (pink), made an appearance in The Pirates.
Older versions of the Combo Rangers have appeared as background Drylanders in episodes such as A Big Mess.
Character history
The children were having a pirate dress-up party on a decorated pirate boat, with three other adults playing pirates as well, when Caramelo, who was in search of an adventure, snuck onto the boat, dressed himself as a pirate and "rescued" the children from their "oppressors". Polvina, Ester and Tubarina see the party setup and tell Caramelo, much to his disappointment, that the pirate boat is not real and the children are not in any danger at all.
However, when the four realise that the boat is headed for some rocks with no adult available to control the boat, they quickly get to work trying to turn the boat around. When they successfully do so, the four farewell the children, who believed that this was all part of their party, and head back into Salacia, but not without freeing the adults in the process.
Background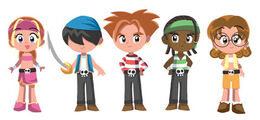 Combo Rangers is a webcomic series created in 1998 by the author of Sea Princesses, Fábio Yabu, about a group of five children who were summoned by the retired superhero Mighty Combo (Poderoso Combo) to defend the world from aliens. It initially began as a parody of the Super Sentai and Power Rangers franchises, but over time, more serious stories had developed, with more allies and enemies entering the series as time passed. Later on, a sixth Ranger named Luke joined the series as the White Combo Ranger.
The original award-winning series lasted in print and online until 2004 when Yabu decided to stop working on the series to focus on the Sea Princesses (Princesas do Mar) books, which later received several sequels and two animated series. In December 2012, Yabu ran a crowdfunding campaign to continue Combo Rangers as a graphic novel, with scripts by Yabu and art by Michel Borges. The funding was successful and the novel was released in 2013, which was followed by two sequels, the latter of which had a crowdfunding campaign launched in 2017.
As of October 2019, the first Combo Rangers graphic novel was published on WEBTOON in English and is available here.