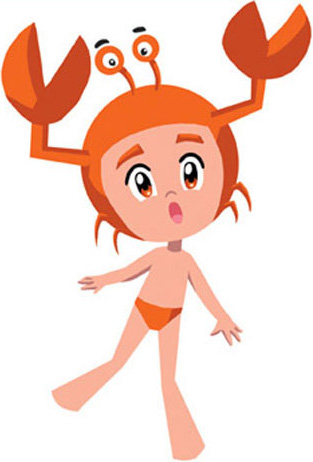 Sirilo is the Crab Prince and one of the few boys in Miss Marla's class. His crown is quite big which gets in his way, giving Sirilo some pretty funny antics.
From time to time, Sirilo hears about Ester, Polvina and Tubarina's adventures and wonders whether he will experience such thrills himself. Little does he know what the future holds for him...
In Homeless, Polvina reaches out to Sirilo for help when a large group of migrating crabs decide to make their home in the Octopus Palace. When Sirilo is hesitant on getting the crabs to move on, Polvina is forced to stay with Ester and Tubarina, but when she gets sick of staying with them, she decides to scare Sirilo and the crabs away by telling them that there is a colony of seals coming to stay nearby.
Sirilo is 7 years old and has the sign of Cancer (♋).