Bad news, everyone. Remember when I was all excited about the mystery 4chan subber on YouTube? Turns out his videos got copyrighted by Endemol Shine (the company who owns the rights to Sea Princesses, formerly Southern Star Endemol).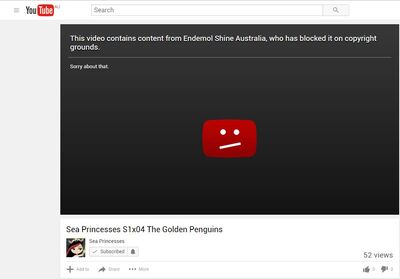 Obviously, this is bad news for Sea Princesses fans who have been looking for episodes in English. First, there is literally only one episode of the English dub on YouTube and even that got Z U C C E D . Secondly, the mystery subber only got up to four episodes of the first season before he got the Z U C C as well. He never even made it to the important episodes, which I desperately need to complete the character articles of the wiki.
Even some episodes of the Hungarian dub got copyrighted as well. At this rate, it won't be long before the Disney Channel Spanish dub raws get Z U C C E D as well. Our mystery subber is going to go out of business!
You know, Endemol, if you seriously wanted to protect your own property, you should have released episodes of Sea Princesses on DVD, not leave it to the ABC to broadcast for 10 years then abandon it for new stuff. You are literally killing your own cartoon.
Why do I like Sea Princesses? Well, the reason is because it (mostly) educates people to respect marine life. Secondly, it provides a bit of headcanon for fanfiction writers (including myself). A particular idea I have is that one day, the Salacians will rise up and unleash their fury on the Drylanders for what they have done to the sea. Well, anyone can make a sealife rebellion story, you just have to have the right inspiration ...
Anyway, all hope is not lost. Over the years, I have managed to download eight episodes of Sea Princesses (four subbed and four dubbed). I might download the Spanish Disney Channel raws just in case.
Mystery subber, if you are out there, could you please get in touch with me on Facebook ? I might, and just might, be able to help you make Sea Princesses great again.
P.S. I know YouTube isn't owned by Mark Zuckerburg, but the analogy still works.
UPDATE: 22 March 2017 - I spent about an hour last night downloading the Spanish raws off YouTube and this morning, I discovered that some of the Season 1 episodes were taken down by copyright. With that being said, it won't take long before all the raws get taken down as well. Isn't it lucky how I managed to download them all? If only I was that lucky with the English dubbed episodes on ABC iView...